The two of us live and work in Dublin. We're obviously passionate about design but we're also excited about what goes on in all the other arts in our city. One of the best places to find this out is through Le Cool, a free weekly internet magazine, and we're delighted be frequent contributors.
You can subscribe to Le Cool for weekly updates or if you're interested in writing for LeCool Dublin contact ciaran or michael, and if you can't read the 'screen grabs' of our articles above, we've them all reformated for your enjoyment below.
Cheers,
andrew & gearóid aka andróid
A Space for Learning/IAF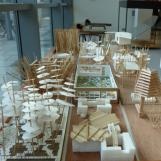 When they built the "new" science lab in my old secondary about 20 years ago, the one person they definitely did not consult was me, the end user, a student, in fact I'd wager they never asked any student, quite like a lot of the work that happens in the 3rd level institutions so it's an extremely interesting proposition to see what would our secondary schools look like if the students designed them. This exhibition attempts to answer this question. Organised by the Irish Architecture Foundation, 10 Teams of transition years won (through a nationwide competition) the chance to work with professional architecture practises the chance to develop their ideas to make their learning environment a better place. Using drawing, video & model these 10 collaborative projects show how we might raise the bar. Fair play. (Thursday, November 18, 2010)
The Flow of Time/Ken Lambert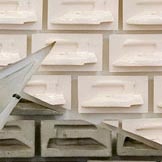 Ever stumbled upon a childhood toy, buried in a flower bed, hidden in the attic, a former prized possession but now the only person in the world it means anything in the world to is you. Kenneth Lambert in his show, takes found objects from his own past and reworks them into animations, giant sculptures of 10,000 parquet matches, flights of spitfires made of orange resin and delicate bronze pieces. The variety in range and scale of the work is astounding. There's 100's of pieces from 90e to 5 figure sums and he's the artist's artist too – based on the amount of them at Saturday's opening queuing up to buy his work. He's like an international airport of artistic ideas and he lands everything. 'The Flow of Time' at the Jamestown Studios, Jamestown Road, Inchicore until 3rd October. (Thursday, September 23, 2010)
Polar Bear/Return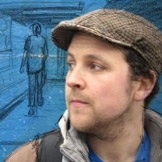 Return is a work written and performed by the spoken word artist and man of Birmingham, Steve Camden aka Polarbear. The premise of the play is the return of a man after time away and how or if the intervening years have changed him, those he left behind and the place he's from. But rather than focus on the plot development the play focuses on the minutiae of the relationships between the protagonists (mother-son-exgirlfriend-grandad), the subtle detail of their verbal interplay and concise scene descriptions with text visuals designed by Marie Gabriella Blunck. The beauty of the show is the delivery, Camden has a 'sick flow' the man can speak and write in meter, it's genuinely beautiful. It must his origins, of Irish – West Indian extraction, because this guy, Polarbear, has the gift of the gab. (Thursday, September 23, 2010)
Fix A Bike/Seamus McNulty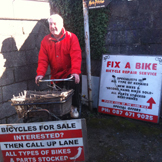 Seamus McNulty is the Dr. Frankenstein of the cycle world (complete with Igor assisting on a Saturday). You have to hunt a bit for his lair, but once there you'll find a museum, graveyard and shop floor all in the one corrugated shed. Move past the tangled pile of frames, duck to avoid the Russian Gas Mask hanging from a rafter, and you find an immaculate refurbished postman's bike, just finished and ready to cycle away. It's a swan in amongst the ugly ducklings, but not the only one, and you can cycle most of its aesthetically challenged sisters away for less than €100-200. 15 years now Seamus has been fixing up bikes, he does repairs as well – he even does a collect and return service to your door! [Truly] Hidden Dublin at it's best! (Thursday, February 18, 2010)
Wounded Knees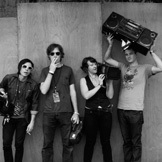 A one night only gig and a one night only art installation upstairs in Whelans. The band, The Wounded Knees, is composed of 4 musicians; Jimi Shields (Rollerskate Skinny, Lotus Crown, Martina Topley-Bird), Suzanne Thorpe (Mercury Rev), Phil Williams (Hopewell) and Mickey Pinaud (Airiel). They're on their way to the ATP festival and play a warm up gig here which is being promoted by Foggy Notions, who as we all know are good people too. Ratcheting things up a little, Jimi Shields asked the creatives at South Studios (which consists of photographers, illustrators and fashion stylists as well as designers of landscape, architecture and print) to provide a bit of visual incongruity to counterpoint the sonic activism and produce work using the medium of coloured packaging tape. Heads UP! (Thursday, November 26, 2009)
Wax Museum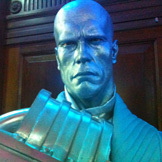 We were not expecting to be impressed by the Wax Museum. To guarantee some return for our morning we brought a 7-year-old, figuring at least one of us would be amused. Well, we all had a hoot. Located in fabulous setting of Francis Johnson's Armoury/Guard house (1808-1811), the waxes are cleverly organised with succinct commentary, and it transpires you can induce a 36-year-old man to scream louder than a 7-year-old girl. Extra fun comes from a music video green room, a full recording studio and the mini science museum is great, though several of the pieces are already broken and the museum has hardly opened its doors ! We got 1.5 hours of quality time and that included the trying to look Jack Charlton in the eye – exactly 2 seconds. Skip the 'gift shop' it's bunkum. (Thursday, November 19, 2009)
Bill Bailey's Remarkable Guide to the Orchestra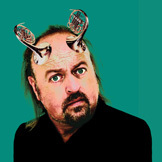 Doing the splits between the two stools of classical music and surreal comedy is the quite ridiculous looking Bill Bailey. Die-hard fans and the downright curious can witness his talent for deconstructing music with his Remarkable Guide to the Orchestra featuring The RTE Concert Orchestra. It begins with some just-like-it-says-on-the-tin explanations and introductions to the instruments, occasionally dissolving into the usual musical styling's of Bailey with a grander accompaniment. Mostly though, it takes advantage of a rare situation where the stuffed shirt of classical music meets the hairy troll, punctuated with Bill's austere meets mad professor expressions and some healthy irreverence – like the rendition of The Swan played by four men. And fifty cow bells. (Thursday, November 19, 2009)
The 40ft.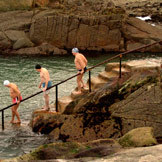 Naturist park and last bastion of defence against Napoleon, Dublin's 40ft has reputedly been in use as a bathing spot for some 250 years and with good reason. Carefully maintained by volunteers, the thick walls of an old gun battery are the backdrop to a longstanding social ritual. To the East, where the crowds gather on Christmas Day, a conveyor belt of board shorted dive bombers, shrieking sissies and giblet pouched heroes slap into the open sea, but follow the wall past the open air urinal and you'll discover the more sheltered domain of the daily dippers, enjoying a chat and taking in the calmer waters that reflect the general mood. Please, have a go. Witness watching the sun set through the Poolbeg chimneys when your eyes are at water level. You can wear a wet suit if you like – beginners are more than tolerated here, but there's no class system in speedos. Or wear nothing at all. When you think about it, it's easier to look a man in the eye when he's naked. Believe me, you don't want be looking anywhere else. (Thursday, November 5, 2009)
DEAF '09, Soap & Skin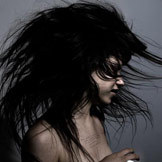 Anja Plaschg, aka Soap&Skin, will perform a mainly acoustic set on piano, and therefore something of a coup, to open this year's DEAF festival. Plaschg's is that age-old story; swine herding classically trained Austrian pianist meets Berlin techo-punk DJ. One Shitkatapult release later we're all queuing up to watch this beautiful 19-year-old sing. Her youth only belies the overall emotion she imparts. It's less the current glut of bagel'n'cream cheese heart-on-sleeve female singer songwriters and more like she's been possessed by a 600 year old demon. Her voice and delivery simultaneously terrify and enchant, the stark piano and chilling lyric will either inspire or leave you standing on the ledge. Our tally of the media gravy suggest it will be the former but have the phone-a-friend handy to talk you down in case it goes the other way. (Thursday, October 22, 2009)
Moore Street Mall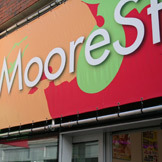 If you think Parnell St is the beating heart of Ireland's change to a multicultural society, then this place is its painted toenails; part fugee vaudeville, part UN subterranean striplit wonderland, but it's so difficult not to love the place. Pick up a €1.50 Lavazza in Gurman's and browse the Caribbean hair extensions on your way to the tanning salon or some oriental nail painting voyeurism. There's gut busting culinary bargains in the food hall and just try and leave without that diamante G-Unit belt buckle. Our personal highlight was the shrine to everyone's favourite goalkeeper Pope John Paul outside U Wejka, but there's a moment of modern Ireland magic for everyone here. So who needs Ryanair? Go Northside for your next vacation, to the relaxed, Paddy-free haven of the Moore St Mall. (Thursday, October 15, 2009)
Hard Working Class Heroes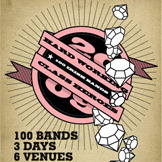 Feel like a philanthopist for €40 at the 7th Hard Working Class Heroes Music Festival, where Angela Dorgan and FMC serve up their annual state of the nation address. With 100 acts from 32 counties – that means 40c a band – you can enjoy a few honest ones while you amble through the 3 night schedule and with no main sponsor nobody's telling you what to drink for a change. Extras include daytime acoustic gigs, a flash mob organised for Thursday and mentoring sessions for aspiring acts explaining the music industry's 'who's riding who'. But where this festival nails it is when you get to stand in a room where some kids you've never heard of tear paint off the walls within about 30 seconds of their first chord. Who's it going to be? No idea – but we're going to be there to find out. This is going to be great. (Thursday, October 15, 2009)
Parking Day '09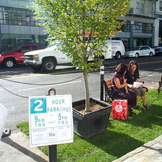 Remember when you wished your living room was right beside the pub? PARK(ing) Day is an experiment to reclaim public space, originated by San Fran artist collective Rebar – a one-day global event during which individuals and groups transform parking spaces into places for people to congregate, socialize and play. Normally you'd need a microscope to find an artist activist in the Venn Diagram of Dublin City, but this is not just for bearded socialists, this is for anybody with an interest in public space, or questions the merit of organizing a city to facilitate the movement of cars. Previously 'artists' have used Sound, Light, Installation and Dance but we're thinking potted begonias, 2 deckchairs, a packet of Hobnobs and a thermos of Lyons Gold Blend could also do it. And maybe some Dance. (Tuesday, September 15, 2009)